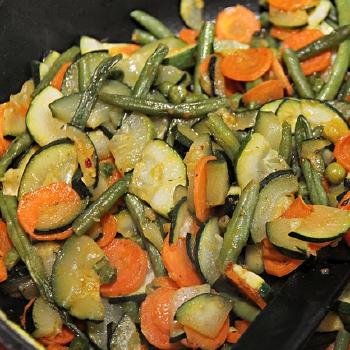 Beef and Vegetable Stew
Ingredients
3 pound stewing beef chuck, , heel of round, or neck
1/3 cup flour
3 tablespoon fat
2 teaspoon salt
1/4 teaspoon pepper
1 teaspoon sugar
1 can tomato sauce, (8 ounce can)
5 cup boiling water
6 medium carrots
8 medium onions
1/4 teaspoon oregano, or marjoram
2 cup cooked or canned peas
Directions
Cut beef in 1-inch cubes; dredge with flour.
Heat fat in a large, heavy saucepot.
Brown meat on all sides.
Add salt, pepper, sugar, tomato sauce, and water.
Simmer, covered.
1 1/2 hours, or until meat is almost tender.
Scrape carrots, slice 1-inch thick.
Peel onions; add with carrots to meat.
Cover; cook 30 minutes.
Add oregano or marjoram and peas.
Cook 15 minutes or until meat and vegetables are done.
If desired, thicken gravy before serving.
Other Information
Author: Organization.Metropolitan Life Insurance Company
Source: Metropolitan Cookbook (1964-02-01)
Category: Soup
Measure: avoirdupois
Ingredient: beef chuck, flour, fat, salt, pepper, sugar, tomato sauce, water, carrot, onion, oregano, pea
Equipment: measuring cups, measuring spoons, pot, knife
See Also