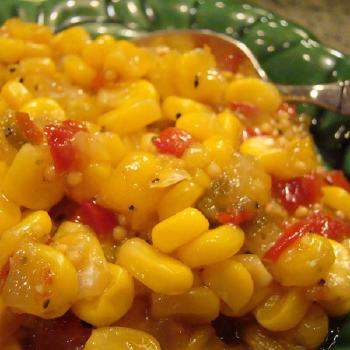 Corn Relish
Yield: 8 pints
Ingredients
9 ears corn
1 quart vinegar
1 teaspoon tumeric
1 medium head cabbage
1 cup sugar
2 medium onions, chopped
1 teaspoon salt
3 red peppers
1 1/2 tablespoon dry mustard
2 green peppers
Directions
Cook corn in boiling water for 2 minutes.
Dip in cold water and cut grains from the cob.
Chop the cabbage, onion and peppers into small pieces and add to corn.
Mix vinegar, sugar, salt and spices and heat to boiling.
Add the corn and vegetables and boil until tender, 20 to 30 minutes, stirring frequently.
Pour into sterile jars and seal.
Other Information
See Also