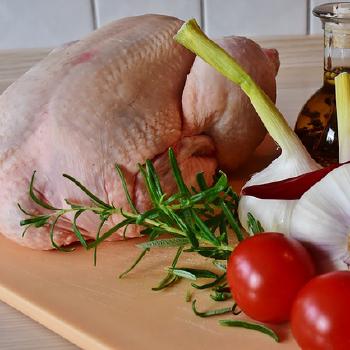 Chicken Creole
Yield: 6 servings
Ingredients
4 - 5 pound chicken
1/2 cup chopped onion
1/4 cup flour
1/2 cup water
1 teaspoon salt
1/4 cup chopped green pepper
pepper
1/4 teaspoon paprika
2 1/2 cup fresh or canned (No. 2 can) tomatoes
1/4 cup fat, chicken fat may be used
Directions
Cut chicken into serving pieces.
Roll in mixture of the flour, salt, pepper, and paprika.
Brown in melted fat.
Add onion; cook 2 to 3 minutes.
Add the water, cover, and simmer about 1 hour or until almost tender, adding more water if necessary.
Stir occasionally to keep from sticking.
Add green pepper and tomatoes.
Simmer about 30 minutes longer.
Serve on seasoned hot noodles or rice.
Other Information
Author: Organization.United States Department of Agriculture
Source: Tomatoes On Your Table (1944-01-01)
Category: Meat
Measure: avoirdupois
Ingredient: chicken, onion, flour, water, salt, green pepper, pepper, paprika, tomato, fat
Equipment: measuring cups, measuring spoons, knife, pot, stove
See Also