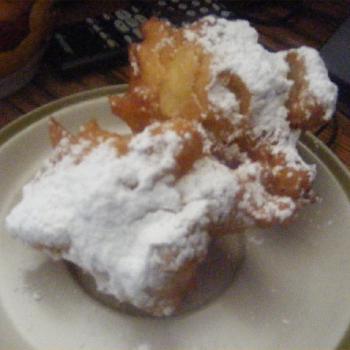 Apple Ring Fritters
Yield: 16 - 18
Ingredients
1 cup sifted flour
3/4 cup milk
1 1/2 teaspoon baking powder
1 egg
2 tablespoon sugar
4 large apples
1/2 teaspoon salt
Directions
Sift dry ingredients.
Add milk and egg.
Beat well.
Peel and core apples and slice in rings about 1/4 inch thick.
Dip rings in batter and drop into skillet containing 1/2 inch of hot melted shortening.
Fry until golden brown on both sides.
Drain on paper towel.
Mix sugar and cinnamon together and sprinkle over fritters.
.
Other Information
Author: Organization.Yorkraft Inc
Source: Pennsylvania Dutch Cooking (1960-01-01)
Category: Bread
Measure: avoirdupois
Ingredient: flour, milk, baking powder, egg, sugar, apple, salt
Equipment: measuring cups, measuring spoons, sifter, skillet, stove
See Also