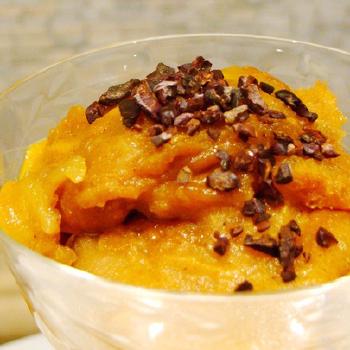 Pumpkin Custard
Ingredients
2 cup pumpkin, sieved
1 cup soft bread crumbs
1 cup sugar
3 tablespoon butter, melted
2 eggs, separated
1/4 teaspoon salt
1 1/2 cup milk
1 teaspoon orange flavoring
Directions
Combine ingredients except egg whites in the order listed and mix well after each addition.
Pour into baking dish or custard cups.
Bake in a slow oven (325f) until mixture thickens and browns.
Beat the egg whites, adding 2 tablespoons of sugar, until stiff, spread on top of custard and brown lightly.
.
Other Information
Author: Organization.Yorkraft Inc
Source: Pennsylvania Dutch Cooking (1960-01-01)
Category: Dessert
Measure: avoirdupois
Ingredient: pumpkin, bread crumb, sugar, butter, egg, salt, milk, flavoring
Equipment: measuring cups, measuring spoons, oven, egg beater
See Also