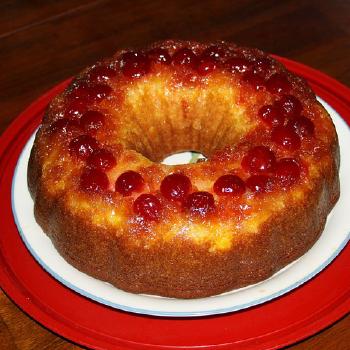 Pineapple Upside-Down Cake
Yield: 9 servings
Ingredients
1/2 cup brown sugar
3 tablespoon butter, or margarine
1 can pineapple, slices (or can)
maraschino cherries
2 cup sifted cake flour
3 teaspoon baking powder
1/4 teaspoon salt
1/4 cup shortening
1 cup sugar
1 egg, well beaten
1 teaspoon vanilla
3/4 cup milk
Directions
Set oven for moderate 350f.
Sprinkle brown sugar in bottom of well-greased pan, 9 by 9 by 2 inches.
Dot with butter.
Melt mixture over very low heat.
Drain pineapple; place slices in pan with cherry in center of each.
Sift together flour, baking powder, and salt.
Cream shortening.
Add sugar gradually and beat until fluffy.
Add egg and vanilla: beat well.
Add flour mixture, a little at a time, alternately with milk.
Pour batter over fruit.
Bake 1 hour or until light brown.
Turn upside down on serving plate at once.
Serve with whipped cream, if desired.
Other Information
See Also