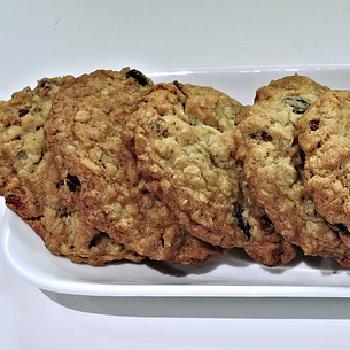 Oatmeal Cookies
Yield: 6 dozen cookies
Ingredients
3 cup flour, (3/4 pound)
1 teaspoon baking soda
1 teaspoon salt
1 1/2 teaspoon cinnamon
1/2 teaspoon cloves
1 teaspoon allspice
3 1/3 cup rolled oats, (10 ounces)
1 cup shortening, (1/2 pound)
2 cup sugar, (1 pound)
2 eggs
1/2 cup evaporated milk
1/2 cup water
1 cup raisins
1 cup chopped nuts
Directions
Sift flour, then measure.
Resift with soda, salt and spice's.
Add rolled oats.
Cream the shortening.
Add sugar gradually and continue creaming until light and fluffy.
Beat in the eggs.
Combine milk with water and add alternately with dry ingredients to first mixture, beginning and ending with dry ingredients.
Add raisins and nuts with last few stirs.
Drop from a teaspoon onto greased baking sheets.
Bake in a moderate oven (375f) until delicately brown, about 12 minutes.
Other Information
See Also