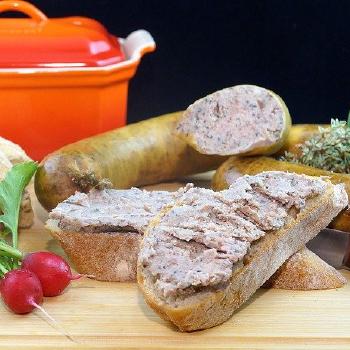 Jaternice (Liver Sausage)
Ingredients
pork, head
pork tongue
pork, heart
1 pound pork liver
salt, to taste
2 teaspoon pepper
1/4 teaspoon ground cloves
2 teaspoon marjoram
1 head garlic, mashed to a smooth paste
Directions
Boil the meat until soft.
Grind all coarsely after it is cooked and cooled.
Soak the bread and then squeeze out until quite dry.
Blanch the liver with hot water.
Grind raw.
Add the meat and the spices.
Add enough of the soup to the meat to make a mixture which would almost pour.
Stuff cleaned casings and tie.
Boil in the rest of the strained soup which has first been cooled and the fat skimmed off.
Boil till they rise to the top, stirring occasionally wih ladle.
Take out and put into cold water.
Then place on paper to dry.
Roast before serving them.
May be frozen.
Other Information
Author: Organization.Clarkson Woman's Club
Source: Old Czech Recipes for Today's Kitchens (1920-01-01)
Category: Meat
Measure: avoirdupois
Ingredient: pork, tongue, liver, salt, pepper, clove, marjoram, garlic
Equipment: measuring cups, measuring spoons, bowl, stove, pot, strainer
See Also