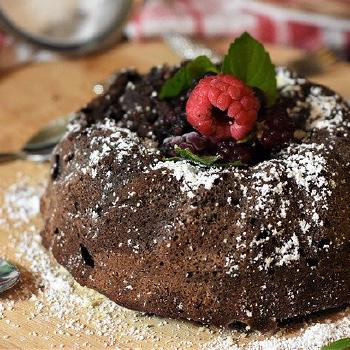 Chocolate Upside-down Cake
Yield: 6 - 8 servings
Ingredients
1 cup sifted flour
3/4 cup sugar
1 1/2 teaspoon baking powder
1/2 teaspoon salt
2 tablespoon butter
3/4 cup pecans or walnuts
3/4 cup milk
1 teaspoon vanilla
1/4 cup cocoa
1 cup hot water
Directions
Sift together: flour, sugar, baking powder, salt.
Add to the dry ingredients and beat well for 2 minutes: butter, pecans or walnuts, milk, vanilla.
Pour into an 8 x 8 inch pan.
Mix together and sprinkle over the batter in the pan: 1 cup sugar, cocoa.
Pour over the cake batter: water bake for 35 minutes in 350f.
Oven.
Cool and serve with whipped cream.
Other Information
Author: Organization.Stout State College Home Economics Club
Source: Stout's Favorites (1955-01-01)
Category: Dessert
Measure: avoirdupois
Ingredient: flour, sugar, baking powder, salt, butter, walnut, milk, vanilla, cocoa, water
Equipment: measuring cups, measuring spoons, sifter, egg beater, baking pan, oven
See Also