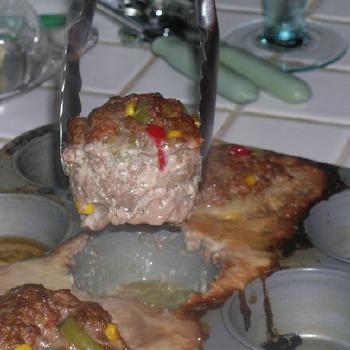 Boubons
Related Recipes: Tomato Sauce III
Yield: 4 servings
Ingredients
1 cup cooked meat, ground fine (one or more kinds may be used)
2 tablespoon fresh bread crumbs
1/4 teaspoon pepper
1/2 cup milk
1 tablespoon green pepper, or pimento chopped fine
1/4 teaspoon celery salt
1 egg
1/2 teaspoon salt
1 teaspoon butter, (melted)
Directions
Beat the egg, add milk, seasonings, melted butter, bread- crumbs and meat.
Mix thoroughly.
Fill buttered cups three- fourths full of mixture.
Place in a pan of boiling water, and bake in a moderate oven fifteen minutes.
The mixture is done allow them to as soon as it resists pressure in the center.
Remain in the pans a few minutes, then remove carefully upon a serving plate.
They may be made in a large mould or individual ones.
Serve with the tomato sauce.
Other Information
See Also