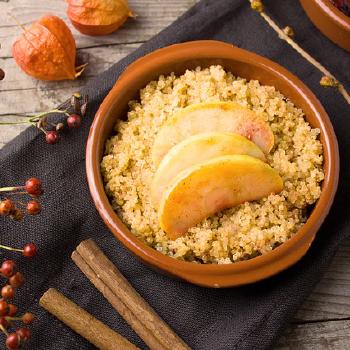 Apple Brown Betty
Yield: 6 servings
Ingredients
1 cup soft bread crumbs, or ready-to-eat cereal
3 tablespoon butter, or margarine
1 teaspoon grated orange or lemon peel
1/2 cup sugar, or other sweetening
1 teaspoon cinnamon
4 medium-sized apples, sliced
1/4 cup fruit juice
Directions
Set oven for moderate, 375f.
Mix bread crumbs, butter or margarine, peel, sugar, and cinnamon.
Place half the sliced apples in buttered baking dish.
Cover with half the bread-crumb mixture.
Add remaining apple slices and cover with remaining crumb mixture.
Sprinkle with fruit juice.
Bake about 45 minutes.
Serve hot or cold with milk, cream, custard sauce, or other dessert sauce.
Mincemeat variation: use 1/2 cup mincemeat and 3 apples.
Rhubarb variation: use 2 cups stewed sweetened rhubarb in place of apples; omit sugar, cinnamon, and fruit juice.
Other Information
See Also