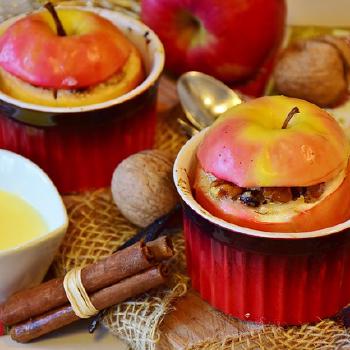 Glazed Baked Apples
Yield: 4 servings
Ingredients
4 large baking apples
1/2 cup seedless raisins
2 tablespoon sugar
1 tablespoon grated lemon peel
1 teaspoon cinnamon
2 teaspoon butter, or margarine
2/3 cup boiling water
1/2 cup sugar
1/2 cup red currant, jelly
Directions
Set oven for 350f.
Wash and core apples; pare 1/3 the way down from stem.
Place in a baking dish.
Combine next 4 ingredients.
Fill centers of apples.
Top each with 1/2 teaspoon butter.
Combine water and the 1/2 cup sugar; pour over apples.
Bake, covered, for 45 to 60 minutes or until tender, basting once or twice with syrup in bottom of pan.
Remove from oven.
Melt jelly over low heat: stir with a fork.
Spoon over apples.
Place in broiler 3 inches from heat: broil 3 or 4 minutes or until glazed.
Serve warm or cold with cream.
Other Information
Author: Organization.Metropolitan Life Insurance Company
Source: Metropolitan Cookbook (1964-02-01)
Category: Dessert
Measure: avoirdupois
Ingredient: apple, raisin, sugar, lemon peel, cinnamon, butter, water, currant
Equipment: oven, measuring spoons, measuring cups, knife, baking pan
See Also