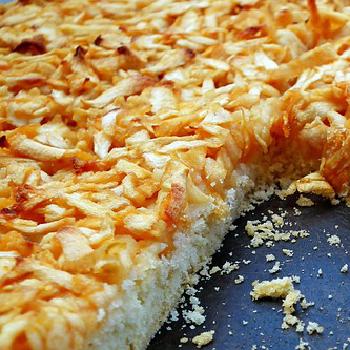 Apple Bread
Ingredients
2 1/4 cup sifted alI purpose flour
1 teaspoon baking powder
1/2 teaspoon salt
2 eggs
1/2 cup sugar
1 teaspoon soda
1/2 teaspoon nutmeg
1/2 cup light corn syrup
1 teaspoon grated lemon rind
1 tablespoon lemon juice
1 cup unpeeled raw red apple, chopped fine
1/4 cup chopped nuts
1/2 cup melted margarine
Directions
Sift together flour, baking powder, salt, sugar, soda, nutmeg.
Add eggs.
Combine and add corn syrup, lemon rind, lemon juice, apple, nuts, and margarine.
Mix as little as possible to form dough and leave ingredients evenly distributed.
Turn into well-greased bread pan, 4 1/2 by 9 in.
Top with thin apple wedges dipped in melted oleo, then in sugar.
Bake in moderate oven, 350f, about one hour.
Cover pan first 20 minutes.
Other Information
See Also