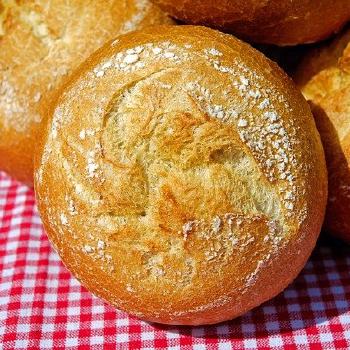 Light Rolls
Ingredients
2 tablespoon sugar
3/4 cup flour
1/4 teaspoon salt
2 tablespoon melted butter
1/2 cup scalded milk
1 egg, well-beaten
1/2 yeast cake
2 tablespoon lukewarm water
flour
Directions
Add the sugar and salt to the scalded milk and when lukewarm, add the yeast dissolved in the lukewarm water, and cover and set in a warm three-fourths of a cup of flour.
Place to rise.
Then add the melted butter, the well-beaten egg, and enough flour to knead.
Let rise in a warm place.
Roll to one-half an inch in thickness and shape with a biscuit cutter.
Butter the top of each.
Fold over, place in a buttered pan, close together.
Let rise again for forty-five minutes and then bake in a quick oven for twenty minutes.
Other Information
Author: Person.Louise Bennett Weaver, Person.Helen Cowles LeCron
Source: A Thousand Ways To Please a Husband (1917-01-01)
Category: Bread
Ingredient: sugar, flour, salt, butter, milk, egg, yeast cake, water
Equipment: measuring cups, measuring spoons, knife, oven, rolling pin, egg beater
See Also