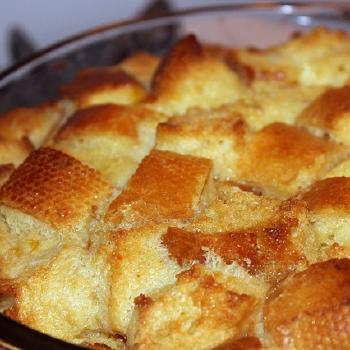 Lemon Bread Pudding
Yield: 54 one-third cup servings
Ingredients
1 cup lemon juice
1 1/4 cup butter, (10 ounces)
1 1/4 quart sugar, (2 1/2 pounds)
15 eggs
1 cup sugar
3/4 teaspoon salt
2 tablespoon grated lemon rind
2 1/2 cup evaporated milk
2 1/2 cup water
Directions
Bring lemon juice and butter to boiling point.
Add the 1 1/4 quarts sugar and pour slowly over the 15 beaten eggs.
Cook over hot water until mixture thickens.
Pour this mixture over the bread crumbs and let stand 10 minutes.
Add the 10 beaten eggs, 1 cup sugar, salt, lemon rind, milk and water.
Pour into buttered pudding molds or baking powder cans.
Lemon bread pudding puffs up while steaming, so fill molds only 3/4 full.
If individual molds are used, this recipe will fill 54 molds with 1/3 cup mixture each.
Cover and steam 1 1/2 hours.
Serve while still warm.
Other Information
See Also