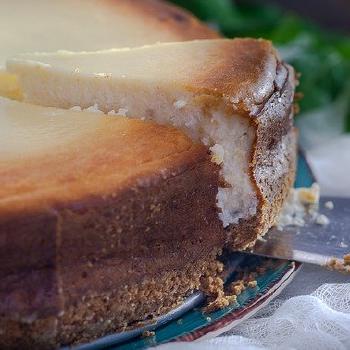 Pineapple Chiffon Cheese Cake
Yield: 10 servings
Ingredients
1/3 cup granulated sugar
1 teaspoon grated lemon rind
1 No. 2 can crushed pineapple
2 tablespoon lemon juice
2 egg yolks
2 egg whites
1 cup cold water
few grains salt
1 tablespoon (envelope) unflavored gelatin
1/2 cup whipping cream
1 cup Zweibach, crumbs
1 cup cottage cheese
1/4 cup melted butter, or margarine
Directions
Combine one-half the sugar and 1/2 cup syrup drained from pineapple with slightly beaten egg yolks.
Cook over hot water until smooth and thickened, stirring constantly.
Soften gelatin in water for 5 minutes.
Add to the hot mixture and stir until dissolved.
Chill until it starts to thicken, then add pineapple, sieved cottage cheese, grated lemon rind and lemon juice.
Fold in stiffly beaten egg whites, salt and whipped cream.
Combine crumbs, remaining sugar and butter or margarine.
Line pan with crumbs, saving out about a third for the top.
Add cheese mixture and cover with remaining crumbs.
Chill several hours until firm.
Other Information
See Also