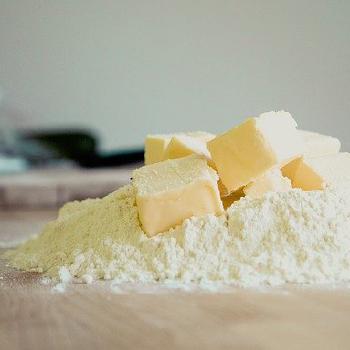 Yeast Refrigerator Cookies
Yield: 6 dozen
Ingredients
4 cup sifted flour
1 teaspoon salt
1 cup butter
1/2 ounce (1 cake) yeast
1/4 cup lukewarm water
1 cup cream
3 egg yolks
1 teaspoon vanilla
1 cup tart jelly
1 cup chopped nuts
Directions
Sift flour and salt; cut in shortening until fat is about the appearance of cornmeal.
Dissolve yeast in lukewarm water.
Mix cream with dissolved yeast and slightly beaten egg yolks and vanilla.
Add flour mixture and knead until smooth.
Place in refrigerator over night.
Divide into two parts.
Roll out on a board, cut into rectangles about 2 inches long and 1 inch wide, and fill with 1/2 teaspoon jelly mixed with nuts.
Fold into squares and press edges together with fork.
Place on greased cookie sheet and bake in moderate oven (375f) for about 15 minutes.
Other Information
Author: Organization.Stout State College Home Economics Club Contributor: Person.Sharon Athrop
Source: Stout's Favorites (2020-03-07)
Category: Dessert
Measure: avoirdupois
Ingredient: flour, salt, butter, yeast, water, cream, egg yolk, vanilla, , nut
Equipment: measuring cups, measuring spoons, sifter, pastry cutter, egg beater, refrigerator, rolling pin, oven, baking sheet
See Also