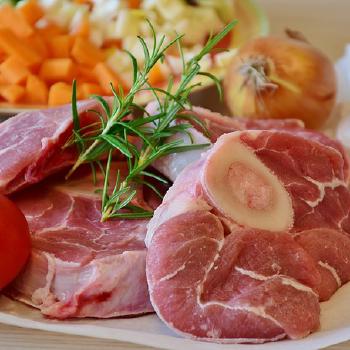 Veal Birds
Related Recipes: Gravy for Veal Birds
Yield: 60 servings
Ingredients
25 pound leg of veal
6 quart cold water
1/4 cup salt, (2 ounces)
outside green stalks and leaves of 2 bunches celery
1/4 cup chopped onion
2 pound dry bread crumbs, (10 2/3 cups)
2 tablespoon salt, (1 ounce)
1 teaspoon pepper
2 cup celery, cut fine
1/4 cup chopped onion
1 cup butter, (1/2 pound)
1 pound boiled veal, (from bones and trimmings), chopped fine
2 eggs, slightly beaten
3 cup evaporated milk
3 cup veal, stock
1/3 cup lemon juice
Directions
Cut veal into thin slices, about 1/2 inch thick.
Pound slices until1/4 inch thick and cut in pieces 4 inches square, making the weight about 4 ounces each.
Wash the bones, fat and trimmings.
Cover with the 6 quarts cold water.
Add 6 cup salt, outside green stalks and leaves of celery and 1/4 cup chopped onion.
Bring slowly to a boil and cook 1 1/2 to 2 hours.
Add more water as needed.
Drain, reserving stock.
Add 2 tablespoons salt and the pepper to bread crumbs.
Fry 1/4 cup chopped onion and the 2 cups chopped celery in the butter until golden brown, and combine with the bread crumbs.
Add the 1 pound chopped veal and mix well with the crumbs.
Combine eggs, milk, veal stock and lemon juice and stir into die bread-crumb mixture.
Place a small roll of dressing in each square of veal.
Roll meat corner-wise and fasten with tooth picks.
Place birds in greased baking pan.
Pour a little melted butter over each bird, or use thin slices of salt pork.
Dredge with flour.
Bake in a hot oven (500° f) for 15 minutes, or until brown.
Reduce to moderate oven (350° f), pour some of the veal stock around the birds, cover, and cook slowly, basting every 15 minutes, until tender, about 1 hour.
Remove birds from baking pan and add enough stock to make 2 quarts.
Other Information
See Also