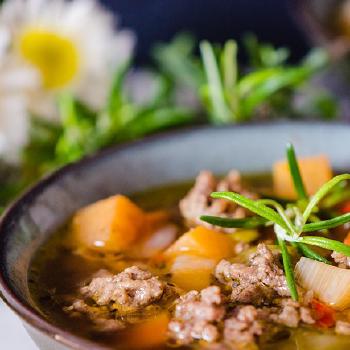 Veal and Green Bean Stew
Yield: 6 servings
Ingredients
1 pound boned veal, shoulder
3 cup cold water
2 teaspoon monosodium glutamate
2 pound green bean
3 tablespoon butter, or margarine
3 tablespoon flour
1 tablespoon sugar
1 tablespoon salt
1/8 teaspoon pepper
2 tablespoon vinegar
1/4 teaspoon summer savory
1 tablespoon chopped parsley
Directions
Cut veal in 1/2-inch pieces.
Add cold water and 1 teaspoon monosodium glutamate.
Bring slowly to boil; lower heat: simmer 1 hour.
Wash beans; break off tips; remove strings, if any.
Break into 1-inch pieces; add to veal: cover; cook 25 minutes or until tender.
Melt butter or margarine: blend in flour, sugar, salt, and remaining monosodium glutamate.
Measure liquid from green bean mixture; add enough water to make 4 cups; add to flour mixture with vinegar.
Cook, stirring until smooth and thickened; return to green bean mixture.
Add savory, parsley, and pepper.
Cook, uncovered, over low heat 15 minutes.
Top each serving with generous mound of mashed potatoes.
Other Information
See Also