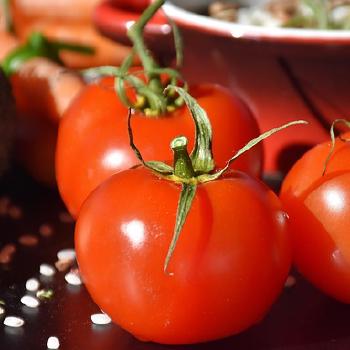 Savory Rice with Tomatoes
Yield: 6 servings
Ingredients
1/4 pound bacon
3 1/2 cup fresh or canned (No. 2 1/2 can) tomatoes
1/4 cup green pepper
1/4 cup onion
1 cup uncooked rice
2 cup water
salt
pepper
Directions
Cook bacon until crisp, remove from fat.
And drain.
Combine 2 tablespoons of the bacon drippings with tomatoes, green pepper and onion.
Bring to boiling, add about 3 cups cooked rice, cook 10 - 20 minutes or add 1 cup uncooked rice and 2 cups water, and cook gently 40 to 45 minutes or until rice is tender.
Add more water if mixture becomes dry.
Season with salt and pepper.
Add bacon.
Other Information
Author: Organization.United States Department of Agriculture
Source: Tomatoes On Your Table (1944-01-01)
Category: Meat
Measure: avoirdupois
Ingredient: bacon, tomato, green pepper, onion, rice, water, salt, pepper
Equipment: measuring cups, measuring spoons, pot, knife, stove
See Also