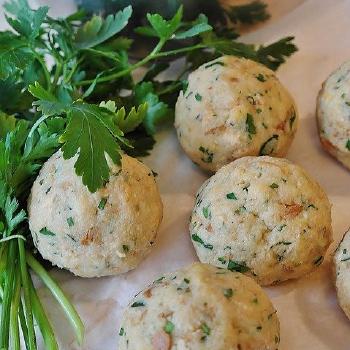 Sauerbraten and Dumplings
Ingredients
3 pound beef chuck, or any pot roast
2 onions, sliced
2 teaspoon salt
6 whole cloves
2 bay leaves
1 1/2 cup red wine vinegar
1 cup boiling water
2 tablespoon shortening
2 pound red cabbage, cut into 8 or 10 wedges
2 teaspoon sugar
1 1/2 teaspoon caraway seeds
dumplings
Directions
Place meat in a glass dish or heavy plastic bag.
Mix onions, salt, cloves, bay leaves, vinegar and water; pour over meat and refrigerate 3 days.
Turn meat twice a day while marinating.
Remove meat from marinade (reserve liquid) and brown in shortening in a heavy skillet, add reserved marinade, cover and simmer 2 1/2 to 3 hours.
Remove meat and onions; keep warm.
Strain liquid into skillet and add water.
Meanwhile prepare dumplings, adding caraway seed to the dough.
Drop dumpling dough by spoonfuls onto cabbage, cook, uncovered, 10 minutes over low heat; then cover and cook 10 minutes longer.
Prepare gravy.
In a saucepan, stir a little flour into enough cold water to make a thin smooth paste, gradually add liquid poured from the cabbage and dumplings.
Cook, 'stirring, constantly, over low heat until gravy is thick and smooth.
Serve the sauerbraten, cabbage and dumplings with gravy.
Other Information
See Also