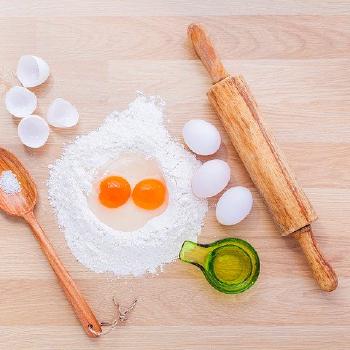 German Sour Cream Twists
Yield: 5 dozen
Ingredients
3 1/2 cup sifted flour
1 teaspoon salt
1 cup shortening, (part butter)
1 package dry yeast
1/4 cup warm water
3/4 cup thick sour cream, (20%)
1 whole egg
2 egg yolks, well beaten
1 teaspoon vanilla
1 cup sugar
Directions
Sift flour, salt into mixing bowl.
Cut in shortening.
Dissolve yeast in water.
Stir into flour mixture with sour cream, eggs, vanilla.
Mix well with hand.
Cover with damp cloth and refrigerate 2 hours.
Roll half of dough on sugared board into an oblong, 8x16.
Fold ends toward center, ends overlapping.
Sprinkle with sugar, roll again to same size.
Repeat a third time.
Roll about 1/4" thick but into strips 1x4".
Twist ends in opposite directions-stretching dough slightly.
Put in shape of horseshoe on ungreased baking sheet-pressing ends to keep shape,.
Repeat with rest of dough.
Heat oven to 375f (quick moderate).
Bake about 15 minutes or until delicately browned.
Take from the baking sheet immediately.
Other Information
See Also