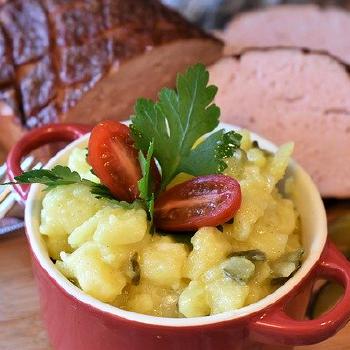 German Potato Salad
Yield: 12 servings
Ingredients
36 small potatoes
1 medium onion, chopped
1 pound bacon
2 tablespoon bacon, fat
2 tablespoon butter
1/2 cup vinegar
1 1/2 cup water
1/2 cup sugar
salt, to taste
pepper, to taste
6 eggs, hardcooked
Directions
Cook potatoes in skins until soft.
Peel and slice.
Add onion.
Fry bacon till crisp; don't let bacon fat get too brown.
Remove bacon from pan, drain and crumble.
Pour off all but 2 tablespoon bacon fat, add butter and stir in cornstarch, sugar, then vinegar, water, salt and pepper.
Bring sauce to a boil, stirring constantly, and pour over potatoes and onion.
Reserve some crumbled bacon and two eggs, sliced, for garnish.
Chop rest of eggs and sprinkle eggs and bacon over salad, mixing in gently.
Garnish with reserved bacon, eggs and chopped parsley.
Other Information
Contributor:
Organization.National Park Service
,
Organization.Smithsonian Institution
Source: Festival of American Folklife: German Recipes (1976-01-01)
Measure: avoirdupois
Ingredient: potato, onion, bacon, butter, vinegar, water, sugar, salt, pepper, egg
Equipment: measuring cups, measuring spoons, knife, baking pan, oven, saucepan, stove
See Also