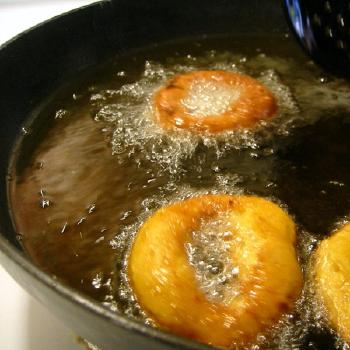 Doughnuts
Yield: 30
Ingredients
1/4 cup sugar
2 cup flour
1 egg, beaten
1/2 teaspoon salt
2/3 cup milk
1/4 teaspoon cinnamon
2 teaspoon baking powder
Directions
Mix the beaten egg and sugar, add the milk, flour, salt, cinnamon and baking powder, sifted together.
Take one-half of the dough, and roll out one-third of an inch thick.
Cut with a doughnut cutter.
Roll and cut the other half.
Put the scraps together and roll again.
Fry in deep fat, turning until a delicate brown.
Drain on brown paper.
Other Information
Author: Person.Louise Bennett Weaver, Person.Helen Cowles LeCron
Source: A Thousand Ways To Please a Husband (1917-01-01)
Category: Bread
Measure: avoirdupois
Ingredient: sugar, flour, egg, salt, milk, cinnamon, baking powder
Equipment: measuring cups, measuring spoons, knife, rolling pin, egg beater, strainer, sifter
See Also