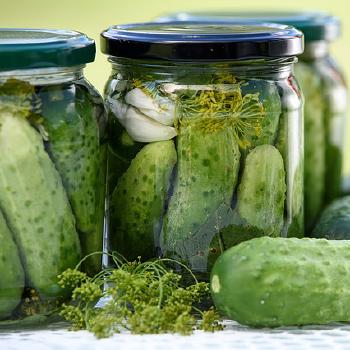 Dill Pickles
Ingredients
1 gallon water
1 cup vinegar
1/3 cup salt
4 heads dill
cucumbers, as many as desired
Directions
Place cucumbers in crock with dill.
Mix water, vinegar and salt, and pour over cucumbers until they are completely immersed.
Place dill on top and cover with a plate slightly smaller than the crock opening.
Place a weight on top of the plate to hold it down (this is done to keep the dill and cucumbers immersed in the liquid).
Allow to stand three days for 'half-sour' dills; after one week they should be well soured.
Other Information
See Also