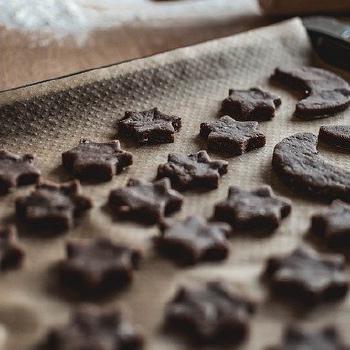 Cukrove Kukesy (Sugar Cookies)
Yield: 5 dozen 2-1/2 inch cookies
Ingredients
1/2 cup soft shortening, half butter
3/4 cup sugar
1 egg
1 tablespoon milk or cream
1 teaspoon flavoring, vanilla or lemon or both
1 1/4 cup sifted flour
1/4 teaspoon baking powder
1/4 teaspoon salt
Directions
Mix shortening, sugar, and egg together thoroughly.
Stir in milk and flavoring.
For additional flavor add 3 or 4 drops butter flavoring.
Sift the flour, baking powder and salt together and stir into creamed mixture.
Chill the dough.
Roll very thin and cut into desired shapes.
Place on lightly greased cookie sheet and sprinkle with sugar.
Bake at 425 degrees for 5 to 7 minutes until delicately browned.
Other Information
Author: Organization.Clarkson Woman's Club
Source: Old Czech Recipes for Today's Kitchens (1920-01-01)
Category: Dessert
Measure: avoirdupois
Ingredient: shortening, sugar, egg, cream, flavoring, flour, baking powder, salt
Equipment: measuring cups, measuring spoons, egg beater, sifter, rolling pin, refrigerator, baking sheet
See Also