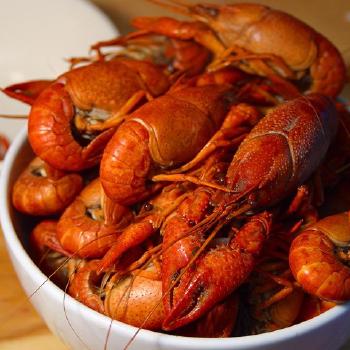 Crawfish EXAtouffee
Yield: 4 servings
Ingredients
1/2 cup butter
1/2 cup extra virgin olive oil
16 ounce frozen cooked crawfish
2 sticks chopped celery
1 nice size chopped green pepper
1 nice size chopped onion
1 chopped carrot
diced garlic cloves
2 tablespoon heaping of flour
3 cup water
cayenne pepper
salt
Directions
In a large pan, sauté the vegetables in the butter and olive oil.
Cook until tender.
Add the cayenne and salt.
Stir.
Add the flour and continuously stir until the roux dark-ens.
Never stop stirring.
When it starts to smell like peanuts, you can stop or you can go for a darker roux.
Pour in the water and stir well.
Simmer for 10-15 minutes until the liquid is sort of thick.
Add the crawfish and simmer for 10 to 15 minutes.
Pour over rice or french bread.
Other Information
See Also