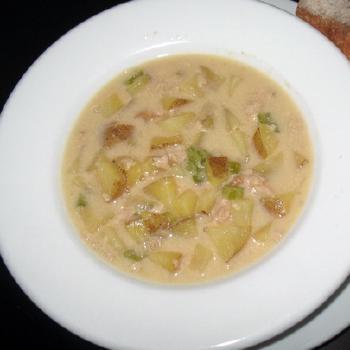 Clam Chowder
Yield: 5 pints, 8 servings
Ingredients
6 slices bacon, finely diced
4 medium onions, finely diced
1 cup celery, tops chopped
6 medium potatoes, finely diced
3 cup water
5 teaspoon salt
1/2 teaspoon pepper
5 cup minced clams
2 tablespoon butter
4 cup rich milk
1 tablespoon flour
4 cup clam, chowder base
Directions
Saute bacon until golden but not brown.
Add onions and celery tops to bacon and cook until onion and celery are wilted.
Add next 5 ingredients, simmer until potatoes are tender, about 1/2 hour.
The base is now completed.
Melt butter and blend in flour.
Remove from heat and slowly stir in milk.
Return to heat and cook until slightly thickened.
Add clam chowder base and heat through but do not boil, add a little butter and paprika to taste.
Serves 8.
Other Information
Author: Person.Mrs Jennie Olson Contributor: Organization.Point Adams Packing Co
Source: Savory Seafoods of Oregon (1957-07-01)
Ingredient: bacon, onion, celery, potato, water, salt, pepper, clam, butter, milk, flour
Equipment: measuring cups, measuring spoons, pan, stove, pot
See Also