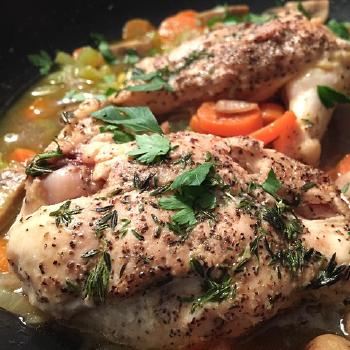 Chicken Fricassee
Yield: 5 - 6 servings
Ingredients
4 .5 pounds ready-to-cook stewing chicken, cut up
3 cup hot water
1 onion studded with a few whole cloves
3 stalks celery, with leaves
1 bay leaf
1 carrot, cut in chunks
2 teaspoon salt
6 tablespoon flour
1/2 cup milk or cream
baking powder biscuits
Directions
Simmer chicken with water and next 5 ingredients 1 1/2 to 2 hours until tender.
Remove chicken to a heated serving dish; keep warm.
Strain broth; skim off excess fat.
Measure 3 cups broth, adding water if necessary.
Mix flour and milk to smooth paste: add slowly to broth; cook over low heat, stirring until thickened.
Season to taste with additional salt and pepper: pour over chicken.
Serve with hot baking powder biscuits.
Other Information
See Also