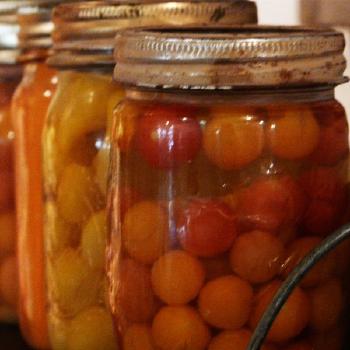 Canned Cherries
Ingredients
6 quart cherries
1 1/2 quart sugar
1/2 pint water
Directions
Measure the cherries after the stems have been removed.
Stone if desired.
If they are stoned, be sure to save the juice.
Put the sugar and water in a kettle and stir over the fire until the sugar is dissolved.
Add the cherries and heat slowly to the boiling point.
Boil ten minutes skimming carefully.
Put into sterilized jars, filling the jars to overflowing with the syrup.
Seal securely.
(When filling the jars stand them in a pan containing boiling water.
This keeps them from breaking) .
Other Information
See Also