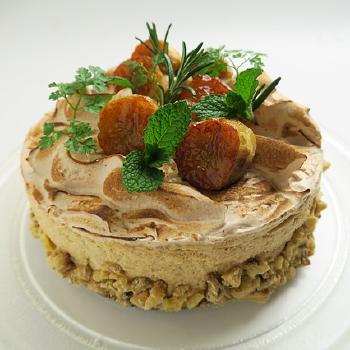 Banana Cream Chiffon Cake
Related Recipes: Whipped Cream Filling
Yield: 10 servings
Ingredients
1 1/8 cup (1 cup plus 2 tbsp) sifted cake flour, (Spoon lightIy into cup, don't pack)
3/4 cup sugar
1 1/2 teaspoon baking powder
1/2 teaspoon salt, cup
1/4 cooking oil
2 unbeaten egg yolks, (med. size)
3 tablespoon cold water
1/2 cup sieved very ripe bananas, (1 to 1 1/2)
1/2 teaspoon vanilla, or
1/2 teaspoon grated lemon rind
1/2 cup egg whites, (4 whites)
1/4 teaspoon cream of tartar
Directions
Preheat oven to 325f (moderate and slow).
Measure-(all level measurements)-and sift together into mixing bowl, flour, sugar, baking powder, salt.
Make a well in the center of dry ingredients and add in order: oil, egg yolks, water, bananas, flavoring.
Beat with spoon until smooth.
Measure into another large mixing bowl: egg whites, cream of tartar.
Whip until whites form very stiff peaks.
They should be much stiffer than for angel food or meringue.
Do not underbeat.
Pour egg yolk mixture gradually over whipped egg whites, gently folding with rubber scraper just until blended.
Do not stir.
Pour into ungreased 9-inch tube pan, 31' inches deep immediately.
Bake 50 to 55 minutes in slow moderate over, 325f, or until top springs back when lightly touched.
Immediately turn pan upside down, placing tube part over neck of funnel or bottle.
Let hang, free of table, until cold.
Loosen from sides and tube with spatula.
Turn pan over and hit edge sharply on table to loosen.
Split cake crosswise in three even layers with saw-toothed knife.
Spread whipped cream filling between layers (widest layer on bottom) and over top and sides.
Garnish with banana slices.
Keep in refrigerator until serving time.
Dip banana slices in lemon, orange, grapefruit or pineapple juice to keep from turning dark.
Other Information
See Also