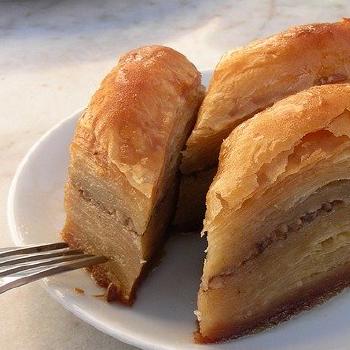 Baklava
Ingredients
1 pound fillo (strudel) dough
1/2 pound sweet butter, unsalted
1/2 pound ground walnuts
1 teaspoon ground cinnamon
2 cup sugar
1 teaspoon vanilla
1 tablespoon lemon juice
3 cup water
Directions
Melt the butter over very low heat.
In a 9" x 13" pan, place 2 or 3 sheets of fillo and brush with butter.
Continue the layers of fillo brushed with butter until half of the fillo has been used.
Mix the nuts with the cinnamon and one tablespoon of the sugar, and spread over the fillo layers.
Then add the rest of the fillo, 2-3 sheets at a time, brushing with butter until it is all used.
With a sharp knife, cut into desired number of pieces and bake at 350 for 35 minutes until it is lightly browned.
Combine the remainder of the sugar with the water in a medium saucepan and boil over medium heat for about 30 minutes, until it thickens.
Add the lemon juice and boil for 10 minutes more, then remove from heat, add vanilla and let it cool.
Pour the cold syrup over the hot baklava a few minutes after removing it from the oven.
Other Information
Author: Person.Soad Mansour, Person.Layla Risk, Person.Suzy Grindi
Source: Festival of American Folklife: Egyptian Recipes (1976-01-01)
Category: Dessert
Measure: avoirdupois
Ingredient: dough, butter, walnut, cinnamon, sugar, vanilla, lemon juice, water
Equipment: measuring cups, measuring spoons, baking pan, brush, bowl, stove, oven
See Also